The article requested is not found.
Browse through our Archives of articles.
Use our powerful article Search Tools.
Scattered Abroad
"Therefore they that were scattered abroad went every where preaching the word." (Acts 8:4)
God has given two great commissions to His people, both of which would require worldwide effort to accomplish. Both, however, were so resisted that God Himself had to step in and force His people to be obedient.
More...
The Arm of the Lord
"The LORD hath made bare his holy arm in the eyes of all the nations; and all the ends of the earth shall see the salvation of our God." (Isaiah 52:10)
More...
Man-Made Sniffer Versus Dog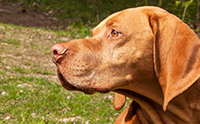 In June, 2017, thousands of scientists from around the world attended the 65th Annual Conference of the American Society for Mass Spectrometry in Indianapolis. One of the thousands of research projects on display at this year's conference compared portable man-made sniffers to dog noses. Whose design won?
More...
Spiritual Entropy
"I speak to your shame. Is it so, that there is not a wise man among you? no, not one that shall be able to judge between his brethren?" (1 Corinthians 6:5)
More...
More Articles