The article requested is not found.
Browse through our Archives of articles.
Use our powerful article Search Tools.
The Rock of Offense
More...
From Disobedience to Obedience
More...
What Is 'Real Scientific Research'?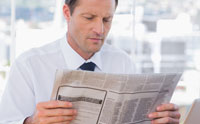 A recent article in The Dallas Morning News and a follow-up NBC interview presented some history and touched on the tenets of the Institute for Creation Research. Both news reports sparked inquiries from readers and viewers. For example, some are now asking, "What defines credible scientific research?" More...
Born into God's Family
More...
More Articles