The article requested is not found.
Browse through our Archives of articles.
Use our powerful article Search Tools.
Good, Very Good, and Not Good
More...
Commitment to God
More...
Asteroid Medley Challenges Naturalistic Origins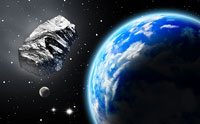 Data from recent spacecraft flybys challenge the prevailing naturalistic perspective on asteroid origins. Secular astronomers assume that natural processes, rather than miracles, created the sun, Earth, planets, and asteroids from ancient, swirling masses of gases, but this new evidence points to something different. More...
Blessed in Christ
More...
More Articles