The article requested is not found.
Browse through our Archives of articles.
Use our powerful article Search Tools.
Stromatolites by Land and by Sea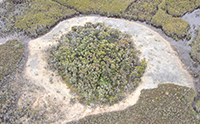 Scientists believed marine stromatolites were extinct—until they found them living in Shark Bay, Australia, in 1956. Living stromatolites keep popping up in more diverse environments. The latest research identified them even living on land.
More...
The Fire of Hell
"The tongue is a fire, a world of iniquity: so is the tongue among our members that it defileth the whole body, and setteth on fire the course of nature; and it is set on fire of hell." (James 3:6)
More...
Hear, O My People
"Hear, O my people, and I will testify unto thee: O Israel, if thou wilt hearken unto me. . . . open thy mouth wide, and I will fill it." (Psalm 81:8, 10)
More...
Let Them Alone
"Ephraim is joined to idols: let him alone." (Hosea 4:17)
More...
More Articles