The article requested is not found.
Browse through our Archives of articles.
Use our powerful article Search Tools.
Another Feathered Dinosaur Tale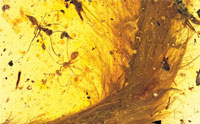 On December 8, 2016, a science news story broke that researchers had found entombed in mid-Cretaceous amber a dinosaur tail complete with "primitive plumage"—i.e., feathers. Is this claim credible?
More...
The Christian's Power
"And . . . the exceeding greatness of his power to us-ward who believe." (Ephesians 1:19)
More...
Faith vs. Science
The scientific world strives to exclude God from its thinking, and faith is not subject to the scientific method. So, how do we reconcile faith and science?
Other episodes in this series:
Why Use Words?
Facts vs. Fantasy
For more radio programs, click here.
More...
The Christian's Possibilities
"That the God of our Lord Jesus Christ . . . May give unto you the spirit of wisdom and revelation in the knowledge of him: The eyes of your understanding being enlightened." (Ephesians 1:17-18)
More...
More Articles