The article requested is not found.
Browse through our Archives of articles.
Use our powerful article Search Tools.
Christ the King
"Which in his times he shall shew, who is the blessed and only Potentate, the King of kings, and Lord of lords." (1 Timothy 6:15) More...
The Watchers
"I saw in the visions of my head upon my bed, and, behold, a watcher and an holy one came down from heaven." (Daniel 4:13) More...
Big Bang Continues to Self-Destruct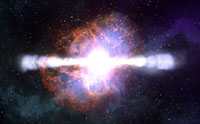 In modern cosmology, one of the most important numbers is the current value of the so-called "Hubble parameter." This number indicates the apparent expansion rate of the universe. A new study indicates that two different methods of estimating this number yield contradictory results. More...
God Is Omnipotent
"Ah Lord GOD! behold, thou hast made the heaven and the earth by thy great power and stretched out arm, and there is nothing too hard for thee." (Jeremiah 32:17) More...
More Articles