The article requested is not found.
Browse through our Archives of articles.
Use our powerful article Search Tools.
Pilgrims on the Earth
"These all died in faith, not having received the promises, but having seen them afar off, and were persuaded of them, and embraced them, and confessed that they were strangers and pilgrims on the earth. For they that say such things declare plainly that they seek a country." (Hebrews 11:13-14) More...
A Provoked Spirit
"They angered him also at the waters of strife, so that it went ill with Moses for their sakes: Because they provoked his spirit, so that he spake unadvisedly with his lips." (Psalm 106:32-33) More...
The Veil over the Nations
"And he will destroy in this mountain the face of the covering cast over all people, and the vail that is spread over all nations." (Isaiah 25:7) More...
What Mean These Stones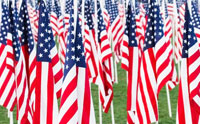 The poet George Santayana once said, "Those who cannot learn from history are doomed to repeat it." In the life of every nation, there are "memories" that must be preserved if that nation is to retain an awareness of its unique role among the nations of the world—indeed, among the long list of nations throughout history. More...
More Articles