Scattered Abroad
by Henry M. Morris, Ph.D. | Jun. 28, 2017
"Therefore they that were scattered abroad went every where preaching the word." (Acts 8:4)
God has given two great commissions to His people, both of which would require worldwide effort to accomplish. Both, however, were so resisted that God Himself had to step in and force His people to be obedient.
Immediately after the great Flood, God gave the following command: "Be fruitful, and multiply, and replenish the earth" (Genesis 9:1). This was an extension of the Edenic mandate given to Adam in the beginning, a commission to fill the earth and exercise dominion over it under God (1:28). Noah's descendants, however, decided to stay in Babel and "make us a name, lest we be scattered abroad upon the face of the whole earth." As a result of this rebellion, "the LORD did there confound the language of all the earth: and from thence did the LORD scatter them abroad upon the face of all the earth" (11:4, 9).
Over 2,000 years later, the Lord gave His disciples another great worldwide commission: "Go ye into all the world, and preach the gospel to every creature" (Mark 16:15). Then followed the coming of the Holy Spirit, and soon "the number of the disciples multiplied in Jerusalem greatly" (Acts 6:7).
But they remained in Jerusalem instead of spreading out to "the uttermost part of the earth" (1:8). Therefore, God once again intervened, and "there was a great persecution against the church which was at Jerusalem: and they were all scattered abroad" (8:1). Then, finally, began their full obedience to the great commission, for "they that were scattered abroad went every where preaching the word," and eventually some "of all nations, and kindreds, and people, and tongues" will stand in saving faith before the Lord (Revelation 7:9). HMM
The Arm of the Lord
"The LORD hath made bare his holy arm in the eyes of all the nations; and all the ends of the earth shall see the salvation of our God." (Isaiah 52:10)
More...
Man-Made Sniffer Versus Dog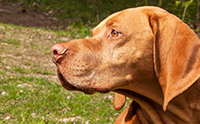 In June, 2017, thousands of scientists from around the world attended the 65th Annual Conference of the American Society for Mass Spectrometry in Indianapolis. One of the thousands of research projects on display at this year's conference compared portable man-made sniffers to dog noses. Whose design won?
More...
Spiritual Entropy
"I speak to your shame. Is it so, that there is not a wise man among you? no, not one that shall be able to judge between his brethren?" (1 Corinthians 6:5)
More...
Laughing or Weeping
"Sorrow is better than laughter: for by the sadness of the countenance the heart is made better." (Ecclesiastes 7:3)
More...
More Articles