The article requested is not found.
Browse through our Archives of articles.
Use our powerful article Search Tools.
Blessed in Christ
More...
The Christian Rest
More...
Delight in the Lord
More...
Europe's Oldest Human Footprints—Dated in Error?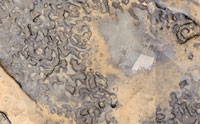 News headlines worldwide recently reported Europe's oldest human footprint discovery. How old are the tracks? It appears the media and researchers answer this question by following the same misleading trends. More...
More Articles