The article requested is not found.
Browse through our Archives of articles.
Use our powerful article Search Tools.
God's Story
"Moreover, brethren, I declare unto you the gospel which I preached unto you, which also ye have received, and wherein ye stand." (1 Corinthians 15:1) More...
Problems, Problems, Problems
"And I said, Oh that I had wings like a dove! for then would I fly away, and be at rest." (Psalm 55:6) More...
Clothing
"And in the midst of the seven candlesticks one like unto the Son of man, clothed with a garment down to the foot, and girt about the paps with a golden girdle." (Revelation 1:13) More...
Trees Really Are 'Pleasant to the Sight'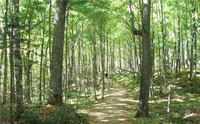 Genesis 2:9 records one of the Lord's original intentions for creating trees, saying, "Out of the ground the LORD God made every tree grow that is pleasant to the sight and good for food." A new study has quantified just how pleasant to the sight trees can be, inadvertently confirming the truthfulness of this ancient biblical passage. More...
More Articles