The article requested is not found.
Browse through our Archives of articles.
Use our powerful article Search Tools.
The Brightness of the Glory
More...
Which Came First--the Spear or its Thrower?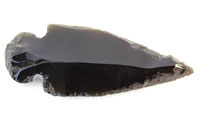 Scientists age-dated a cache of stone-tipped throwing spears from Ethiopia's Gademotta Formation at 280,000 years old. This find appears to pierce the conventional story of human evolution—a narrative about modern man evolving from some pre-human type only 200,000 years ago. How will this date discrepancy be resolved? More...
Before the World Began
More...
What's in a Name?
More...
More Articles