The article requested is not found.
Browse through our Archives of articles.
Use our powerful article Search Tools.
Scientist Stumped by Actual Dinosaur Skin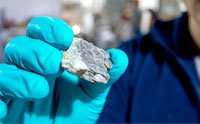 "As we excavated the fossil, I thought that we were looking at a skin impression. Then I noticed a piece came off and I realized this is not ordinary—this is real skin." More...
On All the Heathen
"For the day of the LORD is near upon all the heathen: as thou hast done, it shall be done unto thee: thy reward shall return upon thine own head." (Obadiah 15) More...
Judging Error
"Now I beseech you, brethren, mark them which cause divisions and offences contrary to the doctrine which ye have learned; and avoid them. For they that are such serve not our Lord Jesus Christ, but their own belly; and by good words and fair speeches deceive the hearts of the simple." (Romans 16:17-18) More...
When We Abide in Christ
More...
More Articles