The article requested is not found.
Browse through our Archives of articles.
Use our powerful article Search Tools.
They Shall Never Perish
"And I give unto them eternal life; and they shall never perish, neither shall any man pluck them out of my hand. My Father, which gave them me, is greater than all; and no man is able to pluck them out of my Father's hand." (John 10:28-29) More...
Things We Can't Do Without
"That at that time ye were without Christ, being aliens from the commonwealth of Israel, and strangers from the covenants of promise, having no hope, and without God in the world." (Ephesians 2:12) More...
Missing Link or Another Fish Story?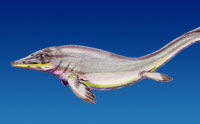 Recently there has been some celebration from the Darwinian community regarding a fossil discovery that allegedly links terrestrial animals to their future aquatic relatives. More...
Our Weapons
"For though we walk in the flesh, we do not war after the flesh." (2 Corinthians 10:3)
This verse introduces a famous apologetic charge to the saints. The key to the whole passage is the qualifier "we do not war after the flesh." More...
More Articles