The article requested is not found.
Browse through our Archives of articles.
Use our powerful article Search Tools.
Zechariah's Visions: The Eyes of the LORD
"For behold the stone that I have laid before Joshua; upon one stone shall be seven eyes....his seven lamps....those seven; they are the eyes of the LORD, which run to and fro through the whole earth." (Zechariah 3:9; 4:2, 10) More...
Unlocking the Origins of Snake Venom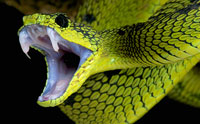 The origin of snake venom has been a long-time mystery to both creationists and evolutionists. Interestingly, new research confirms that the same genes that encode snake venom proteins are active in many other tissues. More...
Zechariah's Visions: Joshua and the BRANCH
"And he shewed me Joshua the high priest standing before the angel of the LORD, and Satan standing at his right hand to resist him." (Zechariah 3:1) More...
Zechariah's Visions: Man's Attempt to Measure
"I lifted up mine eyes again, and looked, and behold a man with a measuring line in his hand. Then said I, Whither goest thou? And he said unto me, To measure Jerusalem, to see what is the breadth thereof, and what is the length thereof." (Zechariah 2:1-2) More...
More Articles