2014 FBC JAX Pastor's Conference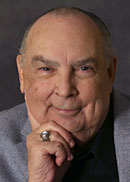 Dr. Henry M. Morris III will be speaking at the 2014 FBC JAX Pastor's Conference in Jacksonville, FL.
Dates: Jan 23, 2014 - Jan 26, 2014
Preaching Through the Patriarchs
This four part series presented by Dr. Henry Morris, former senior pastor and currently CEO of the Institute for Creation Research covers the foundational elements outlined in the great Book of Beginnings and the key lessons provided by the lives of these ancient men. God has recorded for our understanding and discernment.
Attend Dr. Morris' sessions and receive a complimentary copy of The Book of Beginnings, Vol. 3!
Friday, 1/24
11:15 a.m. - 12:15 p.m.
Abraham
Abraham's life sets the earthly stage for millennia. He becomes "father of all them that believe" (Romans 4:1-16). The "bondwoman and her son" illustrate the awful consequences of human effort to achieve God's favor (Galatians 3:9-24).
Friday, 1/24
1:15 - 2:15 p.m.
Isaac
Isaac is the Old Testament example of a willing sacrifice (Hebrews 11:17-19) and is the genetic head of Israel (Romans 9:7). Yet his favoritism of Esau demonstrates how a great beginning does not guarantee a faithful finish.
Saturday, 1/25
11:15 a.m. - 12:15 p.m.
Jacob
Often unjustly maligned, Jacob is used as an example of God's sovereign right to choose those whom He wills to serve Him (Romans 9:10-13) and fathers twelve sons through four wives and becomes known as "Israel" (Genesis 32:28 and 35:22)
Saturday, 1/25
1:15 - 2:15 p.m.
Joseph
Joseph becomes the Prime Minister of Egypt and responsible for preserving the budding nation. Joseph is an example of the steadfast, suffering servant who trusts God to accomplish His "good" through them (Genesis 50:20, Acts 7:9-18).

Location:
First Baptist Church Jacksonville
124 W. Ashley Street
Jacksonville, FL 32202
For more information & registration, please visit the conference website here.