It shows design because it's all integrated.
Dinosaurs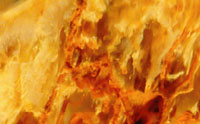 Since tissues like skin and cartilage are known to spontaneously decay in only thousands of years, published finds of original soft tissues in fossilized remains clearly show that the fossils could not be millions of years old.
Many of these studies relied on only a few different detection methods. Now, a team of researchers has applied more than six different techniques to verify that tissues from inside a mosasaur humerus bone consist of mosasaur and not microbial molecules. More...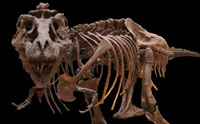 Although creation-based organizations have reported for over a decade on the technical scientific journal articles published about soft tissue found inside dinosaur remains, mainstream media outlets have largely been silent on the subject
But a recent segment that aired on CBS's 60 Minutes finally broke the news to a broader audience. The soft tissue issue may be gaining more traction, and even "may be changing the whole dino ballgame." More...

In recent decades, soft, squishy tissues have been discovered inside fossilized dinosaur bones. They seem so fresh that it appears as though the bodies were buried only a few thousand years ago. More...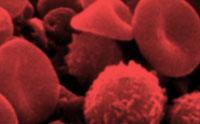 Scientists suggest they have solved the problem of how soft tissues like dinosaur blood vessels could have persisted for millions of years. Do their results really back up that claim? More...

Over a decade ago, paleontologist Dr. Mary Schweitzer accidentally discovered soft tissues preserved inside dinosaur bone.1 While examining the bone structure from an incompletely fossilized T. rex nicknamed "B. rex," she came upon what appeared to be blood vessels and blood cells on her microscope slides. In an interview years later, she recalled, "I looked at this and I looked at this and I thought, this can't be. More...

Paleontologist Mary Schweitzer's discoveries of soft tissue inside fossilized dinosaur bones have been met with extreme skepticism from the scientific community. Such biological structures and molecules should not last beyond a few tens of thousands of years, and could not possibly survive millions of years. So why are they there? More...

Mosasaurs were 40-foot-long marine reptiles with fearsome teeth. Presumed to be extinct, they have been found as fossils on every continent. One unique mosasaur fossil has been housed at the Dinosaur Institute of the Natural History Museum of Los Angeles County for over 40 years. Scientists were able to study not only its bones, but remains of its skin, an eye, and other internal organs from original soft tissues that were preserved. More...

Recently-discovered dinosaur soft tissues, and even blood cells, represent some of the biggest hurdles for long-age evolutionary belief. Soft tissue was found in the femur of a large Tyrannosaurus rex about a decade ago, and more was discovered in another T. rex a few years later. And recently, soft tissues with proteins were found in a hadrosaur from Montana. More...

The Christian Research Institute (CRI) states on its website that "we cannot easily dismiss the fact that an overwhelming majority of authorities in the fields of geology [rocks], paleontology [fossils], biology, etc., are convinced that there is abundant evidence to substantiate a very old earth."1 More...
The fossil was entombed in a porous sandstone, with the surity of penetration by groundwater. Since biological material is quickly broken down in the presence of water, it seems inconceivable that organic material could have avoided decomposition for so long, raising the possibility that the formation is misdated. More...