God Is Faithful
by Henry M. Morris, Ph.D. | Dec. 16, 2017
"God is faithful, by whom ye were called unto the fellowship of his Son Jesus Christ our Lord." (1 Corinthians 1:9)
When we place our trust in Jesus Christ as omnipotent Creator and gracious Redeemer, He then faithfully undertakes to provide everything we need to live an effective, fruitful, victorious Christian life.
For example, when we are tempted to sin or are tested in any other way, "God is faithful, who will not suffer you to be tempted above that ye are able; but will with the temptation also make a way to escape, that ye may be able to bear it" (1 Corinthians 10:13). In this connection, He undertakes to ground us firmly in His truth and to keep us from moral and spiritual harm. "The Lord is faithful, who shall stablish you, and keep you from evil" (2 Thessalonians 3:3).
When we do sin, however, He assures us that "if we confess our sins, he is faithful and just to forgive us our sins, and to cleanse us from all unrighteousness" (1 John 1:9). With all our failings, He has undertaken to eventually perfect us in Christ, and He faithfully will continue this until it is done. "And the very God of peace sanctify you wholly; . . . Faithful is he that calleth you, who also will do it" (1 Thessalonians 5:23-24).
All that He has promised, He will do. Even when we are unfaithful to Him, He remains faithful to us. "If we believe not [that is, 'are unfaithful'], yet he abideth faithful: he cannot deny himself" (2 Timothy 2:13).
Today's verse above, assuring us of God's faithfulness, follows the promise that He will "confirm you unto the end, that ye may be blameless in the day of our Lord Jesus Christ" (1 Corinthians 1:8). Therefore, we seek also to be faithful. "Let us hold fast the profession of our faith without wavering; (for he is faithful that promised)" (Hebrews 10:23). HMM
Old Testament Prophecy
"Of which salvation the prophets have enquired and searched diligently, who prophesied of the grace that should come unto you." (1 Peter 1:10)
More...
Recent Creation Confirmed [Podcast]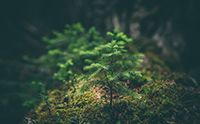 What does the Bible say about recent creation? How does science confirm Earth's youth? ICR Science Writer Brian Thomas offers compelling confirmations of recent creation. Find confidence in the entirety of Scripture, encounter logical answers to the debate, and explore scientific evidence that confirms the Bible is right and its message is true.
More...
What Paul Knew
"And if any man think that he knoweth any thing, he knoweth nothing yet as he ought to know." (1 Corinthians 8:2)
There are many things that none of us can know—not even the apostle Paul. Yet even with his realistic modesty, there are certain key truths that Paul could affirm with certainty, and so can we on the same grounds as he.
More...
Do Billions of Years Fit with Genesis?
Many Christians think that if they can somehow find room in the Scriptures for billions of years then the conflict between Genesis and evolution will be solved. They might not admit it, but sometimes they desire an easy way out so they don't have to investigate the sciences and Scriptures involved. Using his personal testimony as an example, Brian promises a fascinating and rewarding journey for those willing to examine the biblical and scientific evidence.
Other episodes in this series:
Why Does Recent Creation Matter?
What About Radioisotope Clocks?
For more radio programs, click here.
More...
More Articles