The article requested is not found.
Browse through our Archives of articles.
Use our powerful article Search Tools.
Mindful of the Words
"That ye may be mindful of the words which were spoken before by the holy prophets, and of the commandment of us the apostles of the Lord and Saviour." (2 Peter 3:2) More...
The Deep Sleep
"And the LORD God caused a deep sleep to fall upon Adam, and he slept: and he took one of his ribs, and closed up the flesh instead thereof." (Genesis 2:21) More...
Twins Provide Peek Into Mankind's Origin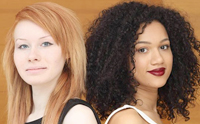 Lucy and Maria Aylmer are 18-year-old twins from the United Kingdom. They were born on the same day from the same mother, yet one has light skin and hair, and the other has dark skin and dark, curlier hair. Their unique story illustrates how human-trait variations found around the world could have arisen suddenly in Noah's offspring. More...
Babes in Christ
"Brethren, be not children in understanding: howbeit in malice be ye children, but in understanding be men." (1 Corinthians 14:20) More...
More Articles