The article requested is not found.
Browse through our Archives of articles.
Use our powerful article Search Tools.
The Gospel of Peace
"How beautiful upon the mountains are the feet of him that bringeth good tidings, that publisheth peace; that bringeth good tidings of good, that publisheth salvation; that saith unto Zion, Thy God reigneth!" (Isaiah 52:7) More...
Cicadas Make Great Mathematicians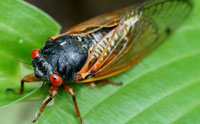 Entomologists regularly discover examples of mathematical genius hardwired into various tiny-brained arthropods. More...
The Opened Heavens
More...
God's Sovereignty
"And the LORD said unto him, Who hath made man's mouth? or who maketh the dumb, or deaf, or the seeing, or the blind? have not I the LORD?" (Exodus 4:11) More...
More Articles