The article requested is not found.
Browse through our Archives of articles.
Use our powerful article Search Tools.
The Victor's Crown
"And every man that striveth for the mastery is temperate in all things. Now they do it to obtain a corruptible crown; but we an incorruptible." (1 Corinthians 9:25) More...
Our Sins in His Body
"Who his own self bare our sins in his own body on the tree, that we, being dead to sins, should live unto righteousness: by whose stripes ye were healed." (1 Peter 2:24) More...
The Righteous Man
"Little children, let no man deceive you: he that doeth righteousness is righteous, even as he is righteous." (1 John 3:7) More...
New Fossil Dubbed 'Platypus Dinosaur'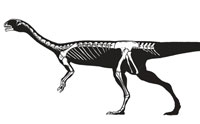 It has a bill like a duck, leg spurs like a rooster, lays eggs like a reptile, but has fur like a mammal. Yet all these features elegantly integrate to form the body of a modern platypus. If God created the platypus, then why couldn't He create other creatures that seem to have borrowed parts from other familiar forms? He may have done just that when he made Chilesaurus. More...
More Articles