The article requested is not found.
Browse through our Archives of articles.
Use our powerful article Search Tools.
The Opened Heavens
More...
God's Sovereignty
"And the LORD said unto him, Who hath made man's mouth? or who maketh the dumb, or deaf, or the seeing, or the blind? have not I the LORD?" (Exodus 4:11) More...
Scientist Stumped by Actual Dinosaur Skin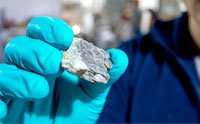 "As we excavated the fossil, I thought that we were looking at a skin impression. Then I noticed a piece came off and I realized this is not ordinary—this is real skin." More...
On All the Heathen
"For the day of the LORD is near upon all the heathen: as thou hast done, it shall be done unto thee: thy reward shall return upon thine own head." (Obadiah 15) More...
More Articles