Get Connected!
Follow ICR on Facebook, Instagram, Twitter, LinkedIn, Pinterest, and YouTube!
Follow the ICR Discovery Center for Science & Earth History on Facebook, Instagram, and Twitter.
ICR Discovery Center Reviews
Have you visited the ICR Discovery Center and enjoyed your experience? We'd love to see your review on Google, Facebook, Yelp, and TripAdvisor. Your feedback will help others find us and encourage them to schedule their own visit to discover how science confirms creation.
ICR Reviews
Have you been blessed by ICR's ministry through our publications, events, and research? We'd appreciate your honest review so others can discover the truth about our Creator and Savor, the Lord Jesus Christ. Post a Google review here.
Social Media Policy
We welcome your comments! These sites are intended to be both a blessing and benefit to ICR followers. We also want fans to feel free joining conversations without fear of bullying, hate speech, or reprisal. ICR reserves the right to delete comments and/or ban users from the page or account for reasons including, but not limited to: (a) off-topic remarks; (b) anything that is libelous, defamatory, abusive, blasphemous, harassing, threatening, irascible, profane, pornographic, disrespectful, offensive, argumentative, false, misleading, mocking, snarky, or which otherwise violates or encourages others to violate ICR's sense of decorum and civility or any law, including intellectual property laws; or (c) "spam" (i.e., an attempt to advertise, solicit, or otherwise promote goods, services, or other businesses). Thank you for being part of our online community and respecting our comment policy.
Due to the volume of communication we receive, we are unable to respond to most social media interactions.
Note: Retweets or shares by ICR social media accounts do not imply an endorsement of any particular individual or organization.
Take ICR with You
Add ICR to your iPhone, iPad, or Android device for creation science resources, news, and videos.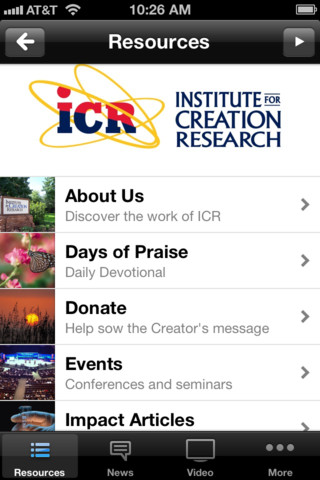 Find answers to tough questions about science and the Bible
Receive timely news through our Creation Science Updates
Explore the evidence for creation
Watch our popular That's a Fact video shows
Read in-depth articles on science, the Bible, and apologetics
Search 40 years' worth of articles on creation, evolution, the Genesis record, and many more subjects
Our app is available for Apple and Android devices.