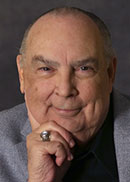 Dr. Henry M. Morris III will speak on biblical creation at the 2018 Polemic Conference hosted by Grace Bible Sanctuary in Palm Bay, Florida. The conference theme will be "Proclaiming Scientific Truth in Creation." If God lied to us in the words of Genesis, then how can we trust Him to keep any other promise? Dr. Morris will present scientific evidence that confirms the absolute accuracy and authority of Scripture in all matters, including science and history.
Dates: Jan 12, 2018 - Jan 14, 2018
Location
Grace Bible Sanctuary
726 James Circle NE
Palm Bay , Florida 32905
To purchase tickets or for more information, please call 321.728.4136 or visit GraceBibleSanctuary.com.