Brian Thomas, Ph.D., and Gary Parker, Ed.D.*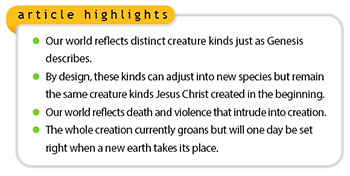 Imagine a river 50 miles wide and 100 miles long but only inches deep. Its slow flow is hidden under tall swamp grasses punctuated by small, rounded clumps of cypress. Home to gators and snakes, the portion of the Everglades preserved as Everglades National Park in south Florida is worth visiting during the day, but it's perilous to pitch your tent there at night. The Everglades house animal interactions that illustrate two biology basics the Bible got right.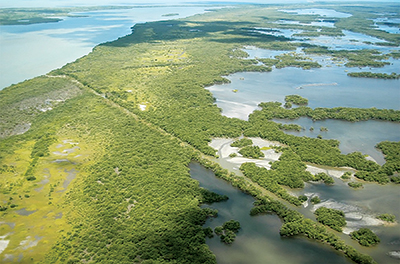 Image credit: National Park Service
Kinds Make Kinds
As God commanded in Genesis 1, living kinds generate more of their own kinds. Each kind has its variations while sticking to its basic body design. For example, flowers maintain their essential identities even though their petals may display different colors.
Similarly, cats exhibit various coat patterns and body sizes, but they remain cats. Even cats with different body and coat types have the ability to interbreed in a continuum. For example, lions can cross with tigers and pumas with ocelots.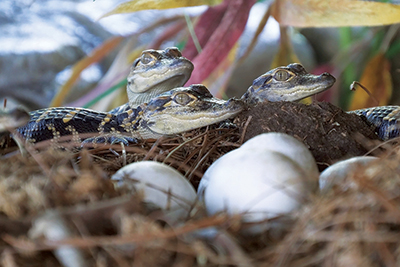 In the Everglades, the Florida panther (Puma concolor couguar) prowls. But not without a struggle—the cat has faced controversy. Back in the 1990s, Florida media cried doom for the big cat. I, Dr. Gary Parker, wrote, "The small population was riddled with so many mutations affecting its circulatory and reproductive systems that mating adults could not produce a cub that could survive even one year."1
I told my college classroom that wildlife biologists could turn this around if they brought in some big cats from the West. This would reintroduce genetic health into the Florida panther population. Then, I took them on a field trip. We walked up in time to hear a park ranger explain that to restore genetic vigor, workers were crossbreeding the Florida panther with panthers (cougars) from out West. Thirty heads swiveled around to look at me.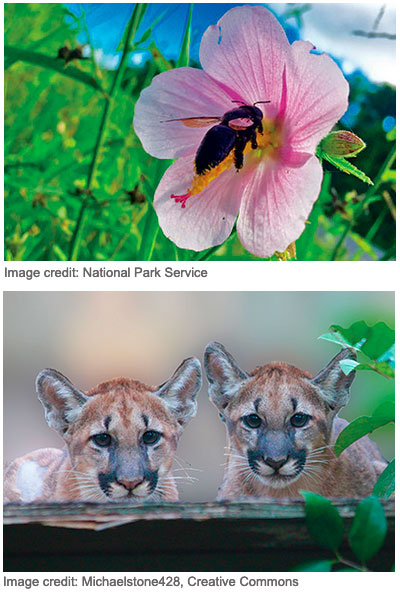 In that moment, those students understood that the Bible got its creature kinds right. Genesis 1:24 says, "Then God said, 'Let the earth bring forth the living creature according to its kind.'" Cats, whether they are small or large, whether they look striped, spotted, or smooth, always produce cats.
Similarly, pythons produce pythons. After Hurricane Andrew toppled Miami pet stores in 1992, Burmese pythons (Python bivittatus) got loose in the Everglades. Their population has since grown. Scientists recently discovered crossbreeds between Burmese and Indian pythons (Python molurus). Reptiles magazine said these variants "may further diversify the gene pool of the large constricting snakes in south Florida and could perhaps change the population dynamics of the species and the localities in which they could migrate to."2 In other words, it's possible that the hybrids have the genetic gear to help them pioneer new territory—maybe they'll slide into your backyard!
Human intervention and natural means both can produce crossbreeds. But why is it that crossbreeds boost genetic strength? From a biblical worldview, the answer is straightforward. Those variants descended from separated populations of the same created kind.3 Regathering long-separated genes masks the harmful effects of mutations that had been accumulating.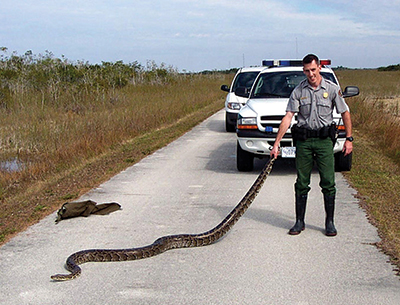 Image credit: National Park Service
Violence and Death Intrude
When driving through Alligator Alley on our way to the Keys, we almost always see alligators. Like algae-covered logs bobbing along the stale waters, the creatures look serene from a distance. But they live an eat-or-be-eaten lifestyle. Biologists and rangers alike have found those gators eating pythons and pythons eating them. One official park photo, shown below right, found fame for its horror. A python apparently swallowed an alligator that proved much too big. The gator's bulky carcass ruptured the python from within, leaving both creatures dead. We certainly no longer live in that "very good" paradise God created in the beginning (Genesis 1:31).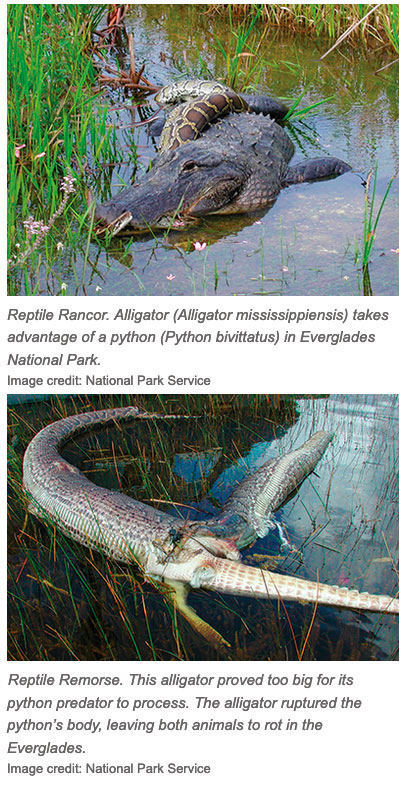 If you frowned in reaction to the image captioned "Reptile Remorse," then your face betrayed the fact that you sense something is very wrong with this world. Death does not belong in God's creation. If it did, we would pay no mind to such gore. Rather, death rudely intrudes into our world. The second biology basic the Bible got right—and we see it in the Everglades in spades—is that violence violates the original good God created.
The book of Romans confirms the origin of death given in Genesis, saying, "Through one man sin entered the world, and death through sin, and thus death spread to all men, because all sinned" (Romans 5:12). Not just humans, but "the whole creation groans" with pain from sin's deathly result (Romans 8:22). How can we ever escape this place of death? We too deserve the judgment of God. His wrath is revealed against our ungodliness and our suppression of the truth. But praise God, the Lord Jesus took our death penalty and rose from the grave in order to rescue us! After He returns, He promises to build a new world where "there shall be no more death, nor sorrow" (Revelation 21:4).
The Everglades show what Genesis 1–3 describes: kinds make kinds, and death intrudes. The Bible's trustworthy biology secures our confidence in Scripture's promise that the Lord Jesus is our way to God.
References
Parker, G. 2011. Building Blocks in Life Science. Green Forest, AR: Master Books, 59.
Virata, J. Burmese Pythons Crossbreeding With Indian Pythons In Florida Everglades. Reptiles. Posted on reptilesmagazine.com August 23, 2018, accessed April 12, 2021.
This means that evolutionary ideas of kinds turning into different kinds fly in the face of both the Bible and biology.
* Dr. Thomas is Research Associate at the Institute for Creation Research and earned his Ph.D. in paleobiochemistry from the University of Liverpool. Dr. Parker is Director of Creation Adventures Museum and earned his Ed.D. in biology/minor geology from Ball State University.