by Bethany Trimble and Susan Windsor*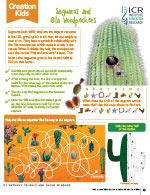 You're never too young to be a creation scientist! Kids, discover fun facts about God's creation with ICR's special Creation Kids learning and activities page.
Did you know that saguaros are the largest cactuses in the U.S.? They have a special relationship with Gila woodpeckers. Learn about how this small bird and giant plant help each other live and grow, just as the Lord Jesus designed them to do.
Click HERE to download the May-June 2023 activity page.
Click HERE for all of ICR's Creation Kids activity pages.
* Ms. Trimble is Communications Specialist and Ms. Windsor is Graphic Design Specialist at the Institute for Creation Research.