"And the boys grew: and Esau was a cunning hunter, a man of the field; and Jacob was a plain man, dwelling in tents. And Isaac loved Esau, because he did eat of his venison: but Rebekah loved Jacob." (Genesis 25:27-28)
Isaac's early life became the biblical picture of Christ (
Genesis 22:7-9
). Not only did Isaac lay down his life voluntarily, but he continued to show great evidence of God's presence and promise. He had personal instruction in faith from Abraham (
Genesis 18:19
) and had been given direct evidence of God's sovereignty in his life (
Genesis 24:67
).
Even before the birth of his sons when he was 60 years old, Isaac interceded for Rebecca and the children (
Genesis 25:21
). It is certain that he had firsthand knowledge of God's plan for the boys (
Genesis 26:2-35
; 28:1-4), yet in spite of his knowledge, Isaac "loved Esau" (our text).
He knew that God had chosen the younger child to rule (
Genesis 25:23
). He knew that Esau was an ungodly man (
Genesis 27:46
), and he knew that Esau had married pagan wives (
Genesis 26:34
) in spite of God's command to the contrary. But Isaac was determined to give the birthright to Esau. The single reason Scripture cites for Isaac's irrational behavior was that he loved Esau and the savory meat Esau brought in from hunting (
Genesis 27:1-4
).
Isaac finally gave the blessing to Jacob, but he would have blessed Esau; he would have gone against God's command, and he "trembled exceedingly" when he knew that he had been overruled by God (
Genesis 27:30-33
). Ultimately, Isaac submitted to God and instructed Jacob in righteousness (
Genesis 28:1-5
). The pain in Jacob's life, the agony of Rebecca's separation from her son, and the torn testimony of Isaac were all caused by an incorrect "love." HMM III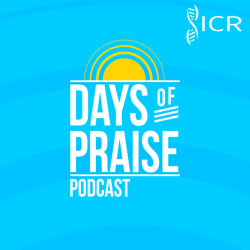 Days of Praise Podcast is a podcast based on the Institute for Creation Research quarterly print devotional, Days of Praise. Start your day with devotional readings written by Dr. Henry Morris, Dr. Henry Morris III, Dr. John Morris, and others to strengthen and encourage you in your Christian faith.