"Precious in the sight of the Lord is the death of His saints" (Psalm 116:15)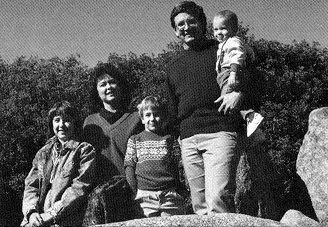 My youngest son, Dr. Andrew Hunter Morris, Assistant Professor of Management Information Science at Florida State University and Adjunct Assistant Professor of Statistics and Computer Science in the ICR Graduate School, went home to heaven on May 7, 1989, after a three-month battle with an aggressive and incurable type of cancer (T-cell lymphoma). He is survived by his wife Rebecca and three children—Elizabeth (11), Daniel (8), and Thomas (3).
Those are facts, but the story woven around the facts also deserves telling for it shows how a Christian can die and how other Christians can respond to the reality of a dying member of the Christian family.
Andy, as everyone called him, was in the prime of life, age 39, with a Christian wife, lovely family, excellent position, and a very promising professional future. He had always been strong and healthy, yet gentle and soft spoken, highly moral and ethical, firmly committed to Biblical Christianity in general, and scientific Biblical creationism in particular—a practicing, believing Christian, faithful husband, dedicated father, and loving son and brother.
Yet Satan severely bruised him, and the Lord allowed it, despite the fervent, believing prayers of literally thousands of concerned Christians around the world, as well as his own family and friends. One is naturally tempted to ask: "Why?"
Andy himself, however, did not ask. Instead, he left a testimony—half written, half dictated after he became too weak to write. He soon also became too weak to talk much, but he asked everyone who came into his room—nurses, friends, faculty colleagues, students, fellow church members—to read his testimony. This was his means of continuing to witness, and it profoundly affected many who read it. Here it is:
ANDY'S TESTIMONY
I remember well when I accepted the Lord Jesus Christ as my personal Savior, even though I was only six years old at the time. It was in an evangelistic meeting at the First Baptist Church in Lafayette, Louisiana. Dad was out of town at the time, speaking in a Gideon meeting. Mother was seated near the front of the church, with all six of their children, and she was reluctant to let me go forward at the invitation, since neither she, nor Dad, nor the pastor had discussed it with me. Nevertheless, I had been raised in a Christian home where the Bible was read every day, and I really did understand. Mother and Dad agreed, when they talked and prayed with me. I was baptized the following Sunday, and have been confident of salvation ever since, according to God's promises, even when I was falling short of His best will for my life.
God has been good to me, blessing me with a good education, good health, a Christian wife, and three fine children. I was certainly not prepared for the blow of a sudden incurable cancer. Nevertheless, the Lord has helped us to grow spiritually through this experience, and we do need your prayers that He will continue to use it in the years ahead.
God has been so good through all of this, and I have found a real peace through it all. The assurance of salvation is so real. I know that, in spite of all my sins and my failure at times to use my talents and opportunities for God, it really doesn't matter now, for Christ took care of that long ago. What a blessing that is when you are in the valley of the shadow of death. I fear no evil, for God is with me. Even if I die, I know that God will take care of my family, and that is great peace.
I am also praying for ICR—I know that there is a real attack of Satan under way on ICR. Trust God day by day, for strength to continue another day, and keep on keeping on.
As far as my condition is concerned, my only real hope is in the Lord. He can stop this cancer, and we pray that He will. Whatever time I have left will be different. I know that Rebecca and I have grown so much these weeks. I am praying that God will give us a special ministry or outreach where we can share all we have learned. Each day is important.
Thank you for your prayers. Many, in many places, have been praying, and all the prayers have really lifted the burden.
With love in Christ,
Andy Morris
REMEMBERING
Andy seemed in his last days to grow stronger spiritually, even as he deteriorated physically under the blows of the lethal lymphoma. He also had to endure pneumonia, diarrhea, and high fever, caused by infections which he could no longer resist after the chemotherapy treatments. The strong pain-relieving medications eventually began to cause frequent spells of irrationality.
Still he remained firm in faith, and loving and considerate in attitude. This was no religious veneer, but a confidence based on sure knowledge of the Word and the ways of God. Andy knew the Bible well, and also knew God's creation well. For one whose formal training was in physical science, mathematics, and systems analysis, he had also taught himself much biology, and could identify and describe an amazing number of plants and animals. He had spent much time outdoors, observing and loving all of God's creatures, as well as the stars of the heavens, and he taught all these things to his children.
Andy also loved music, both as an artist and as a scientist. He had a beautiful bass voice, and was a skilled trombonist. As a teacher, his students and faculty colleagues always appreciated and honored him. He persisted in teaching his classes and counseling his graduate students right up to the time he had to be hospitalized. He even declined the offer of a "handicapped" parking space near his office, insisting he was still capable of walking the several blocks from his car.
At first the chemotherapy seemed to be working, and we were all hoping for his recovery. Then it was discovered that he had the vicious "T-cell lymphoma," and only a real miracle could have saved him. We prayed for this, of course, and so did literally thousands of others, all over the world, but the Lord had another plan and purpose, which we can only dimly discern at present. This will be known in its fullness some day, and then we shall praise the Lord for accomplishing His holy purpose in Andy's homegoing. "Let us kneel before the Lord our Maker. For He is our God, and we are the people of His pasture, and the sheep of His hand" (Psalm 95:6,7).
One part of that purpose was surely to give many of God's people an opportunity to share their lives with the needs of Andy and his family. They had only recently joined Tallahassee's First Baptist Church, but the love and unselfish concern of Pastor Jim Chavis, along with the church staff and many of its people, were unique in all our experience. A more loving, caring church would be impossible to find. During each night of Andy's last three weeks, the men of the church took shifts at staying in his room, praying and helping, throughout the night. These included his own college dean, the associate academic vice president, a district judge, professional men, businessmen, men from all walks of life. The ladies brought food, helped with the children, and showed their Christian love in many ways. So did Andy's neighbors, and people from other churches.
Furthermore, Andy's colleagues at the university, staff and students alike, rallied behind him in a marvelous way. He had been on the faculty there only two years, but his life and testimony had made a profound impression. His adviser at Texas Tech (where he had recently finished his Ph.D.) and his fellow graduate assistant and doctoral student there (now teaching at the University of Houston) even made a special trip to Tallahassee to visit him in the hospital, and Texas Tech has established an endowed doctoral fellowship in his name.
Many at his memorial service in Tallahassee told us, weeping, that they had come to comfort Andy and had themselves received comfort and blessing from seeing his faith and testimony. The service, conducted by Pastor Chavis and assisted by Dr. Henry Morris III (Andy's older brother), was a stirring experience for all who attended, Christians and non-Christians alike. Two days later a similar service was held in San Diego, conducted by Henry and assisted by Andy's older brother, Dr. John Morris. If anything, it was an even more glorious service than in Tallahassee; the funeral director testified it was the most moving in all his experience. Both services included the singing of Andy's favorite songs—first, "There's Going to Be a Meeting in the Air," then the concluding song, "What Wondrous Love is This?" The latter ends with the line: "Through all eternity, I'll sing on, I'll sing on."
And he will! All the redeemed of the Lord, trusting in Jesus Christ as Creator, Savior, and coming King, will sing "Thou are worthy, 0 Lord, to receive glory and honor and power; for Thou hast created all things ... Thou are worthy ... : for Thou was slain, and hast redeemed us to God by Thy blood.... And we shall reign on the earth" (Revelation 4:11; 5:9, 10). Andy has already joined the celestial choir, but all who know the Lord will be there soon—and forever.
A 94-year-old Catholic man, also dying of cancer, in the room across the hall from Andy, was so stirred by Andy's testimony and by the Christian love manifested so freely by those coming and going that he began to pray that God would take him and spare Andy. One night as he was praying thus—or so he testified, at least—an angel appeared to him and said: "God has heard your prayer, but He cannot answer it now, for He wants Andy in heaven."
We have to believe that God must have wanted Andy in heaven, even though we wanted him here so much. He is the first member of ICR's Graduate School faculty to enter into the joy of God's presence, and we are proud and thankful that he has given a good confession of Christ, both by life and by death. But we miss him keenly.
As his father, I miss him very much, for he truly was a beloved son and I would willingly have died in his place, had it been possible. I begin now to understand something of Abraham's anguish when asked to offer up Isaac—or perhaps even a glimpse of the heavenly Father's agony of heart when He "spared not His own Son, but delivered Him up for us all" (Romans 8:32). That God gave His own Son to die for us surpasses all human comprehension, but He did! "What wondrous love is this, 0 my soul, 0 my soul?" Christianity and Christ are real indeed!
Dr. Andy Morris has, indeed, shown us how a Christian can die, even when that death is lingering and very painful. Furthermore, his suffering and dying served to draw out the Christian love and unselfish concern of many, many Christian people in Tallahassee and around the world. It has brought our own ICR family closer together in love for each other than ever before. I believe all of us now love the Lord more and feel closer to heaven, because Andy is there.
* Dr. Morris is Founder and President Emeritus of ICR.