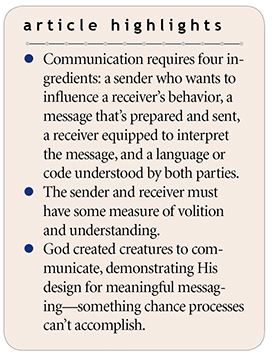 Making sense of biological senses is a losing battle for evolutionary theories, and explaining complex creature communication is even worse. Why? Because evolutionists have no real explanation for why communication occurs. Chance processes couldn't have assembled the key ingredients needed for the elaborate messaging we witness in the animal kingdom.
Higher (i.e., nephesh-possessing) animals routinely send forms of purposeful signals to influence the behaviors of other animals or even humans.1 To appreciate this, we must distinguish between animals using environmental cues and those employing communicative signals.2
Cues are environmental or creature features that, when detected, are useful in acquiring information relevant to future activities.2,3 When bloodthirsty mosquitos seek "fast food," they often fly upwind if their chemoreceptors sense carbon dioxide (CO2), because continually exhaled CO2 reveals that a warm-blooded mammal is nearby. But the CO2 is not a message that's purposely sent. It's a cue to mosquitos indicating "mammal blood available here," but there's no mammalian intent to transmit that information to parasitic pests.2
Contrast that with a domesticated dog barking to alert humans "I'm hungry! Feed me!" That barking is a communicative signal—a consciously prepared message sent from one intelligent creature to another for the purpose of prompting a behavioral response that will benefit the "speaking" animal.2,4 Although simple, this is true communication. There's a message sender, a receiver, and a transmitted message in the form of understandable coded information, and the sender's intention is to influence a responsive action by the receiver.
For there to be a purpose in message sending, senders must have a motive. They must think, decide, and communicatively act. Senders must possess some type of personal (or person-like) internal "software" enabling motivation, thinking, and decision-making, as well as physiological "hardware" sufficient for preparing and transmitting signaling actions.4,5
Such an action isn't a true signal unless its purpose is to elicit a response from a signal-comprehending recipient.2 If signals are incomprehensible to the intended receiver, they fail to be meaningful messages. Message recipients must be able to understand (decode, decipher) the message enough to facilitate a timely and relevant adjustment of the receiver's behavior in response to the message.4
No real communication occurs without these ingredients: a sender preparing and sending the message, a receiver capable of a response-relevant understanding of the message, and a language or comparable information code known to both sender and receiver. When creature communication does occur—as it does worldwide, every day, in many contexts—it powerfully demonstrates God's providential bioengineering design for meaningful and purposeful messaging.
Don't expect an impersonal Big Bang, eons ago, to have invented any of that! God designed and equipped humans and higher animals to intentionally communicate purposefully coded signals, to intended recipients, for prompting expected responses.4,5 God chose to give communication traits to higher animals when He gave them soul-life (nephesh).5 Thus, the Bible makes sense of animal communication, but evolutionary stories don't. You might try telling that to your evolutionist friends who enjoy communicating with their pets.
References
Animals have nephesh, the Hebrew word for soul. See Genesis 1:20-21. To illustrate dog-to-human communication in the stranger-than-fiction adventures of Antis (the RAF aviator-dog who had lots of nephesh), see Johnson, J. J. S. 2016. High-Altitude Flying Is for the Birds. Acts & Facts. 45 (3): 20-21.
Davies, N. B. et al. 2012. An Introduction to Behavioural Ecology, 4th ed. Oxford: Wiley-Blackwell, 394-423, especially page 395 contrasting "cues" and "signals." All signals are sent as cues, but not all environmental cues are intentional signals.
Guliuzza, R. J. and P. B. Gaskill. 2018. Continuous Environmental Tracking: An Engineering Framework to Understand Adaptation and Diversification. In Proceedings of the Eighth International Conference on Creationism. J. H. Whitmore, ed. Pittsburgh, PA: Creation Science Fellowship, 158-184. Also Guliuzza, R. J. 2019. Engineered Adaptability: Continuous Environmental Tracking Wrap-Up. Acts & Facts. 48 (8): 17-19.
As 1 Corinthians 14:8 reminds us, sounds only make sense if the sender and receiver are agreed on the "code" for interpreting the messages sent. In human terms, it takes a common language (or code) for humans to send and receive meaningful messages. Thus, those not knowing the conventional code, or language, of signals sent won't recognize the intended message meanings.
Morris III, H. M. 2012. It's Alive! Acts & Facts. 41 (8): 4-5; Johnson, J. J. S. 2017. Clever Creatures: "Wise from Receiving Wisdom." Acts & Facts. 46 (3): 21.
* Dr. Johnson is Associate Professor of Apologetics and Chief Academic Officer at the Institute for Creation Research.