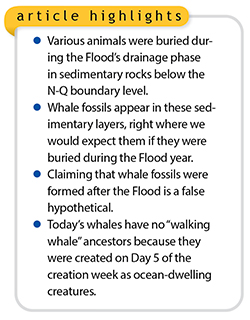 Don't believe it if someone tells you that a pair of "walking whale"-like mammals trudged off the Ark and later procreated a line of descendants that somehow evolved into ocean-dwelling whales that replaced their ancestral "legs" with fins and flukes.1
Consider answering this challenge: "Some of the animals that are aquatic or marine today may not have been aquatic at the time of the Flood."2
"Name one," you could reply.
"Whales," the walking-whale advocate says, alleging that there are no whale fossils in Flood-deposited sedimentary rock layers.2-4 "The fossil record proves" (and this paleontological assumption is the critical false hypothetical fallacy), says he, "that today's whales didn't exist before Noah, so they must have speedily evolved after the Flood from Ark-preserved 'walking whale' ancestors, who quickly shed hips and legs, producing modern whales."1,2,4
Did the legged-whale proponent fail to disclose invalid assumptions about the fossil record? Are false hypotheticals employed that the unwary are misled to accept?1,2 Yes, this fantasy isn't new—Darwin proposed similar science fiction but later quietly retracted it.3
Unlike Darwin, today's "saltation" (hyper-evolution) advocate anchors his argument in the assumption that the Flood was completely finished (including drainage depositions) by the time Cretaceous sedimentary rock layers were deposited—i.e., at the K-T/K-Pg (Cretaceous-Paleogene) boundary level.2,4
If that assumption were true, all fossil-bearing sedimentary rock layers located above the K-T/K-Pg boundary could not be Flood-deposited. Accordingly, cetacean fossils that are found between the K-T/K-Pg and N-Q (Neogene-Quaternary) boundaries would be interpreted as post-Flood fossils, i.e., fossils buried centuries after the Flood was completely over.4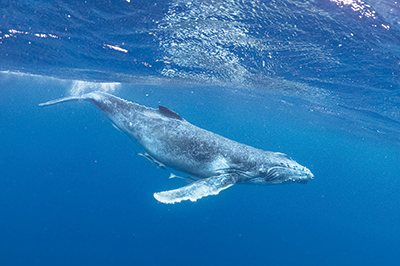 Furthermore, if the K-T/K-Pg boundary represented the level where Flood drainage ceased—and if cetacean fossils are found only above the K-T/K-Pg boundary—this would appear consistent with the scenario that legless whales first appeared on Earth after the Flood finished, inviting the notion that today's whales evolved only centuries after the Flood.4 Beyond that double-assumption-based scenario, the post-Flood whale evolution concept also requires high-speed hyper-evolution, which is beyond what even Darwin imagined.1,4
Don't be fooled by false hypotheticals that displace the N-Q boundary with saltationists' premature K-T/K-Pg boundary to promote whale hyper-evolution.
Thankfully, in 1961, Drs. Henry Morris and John Whitcomb clarified that Earth's sedimentary rocks match the Genesis Flood account, showing that Flood-deposited fossils should be expected in sedimentary rocks as high as what's now called the N-Q boundary.5 There was no need for a legged whale ancestor to suddenly hyper-evolve after the Flood. Instead, God created whales as whales on Day 5 of the creation week (Genesis 1:21).
References
* Dr. Johnson is Associate Professor of Apologetics and Chief Academic Officer at the Institute for Creation Research.