by Christy Hardy and Susan Windsor*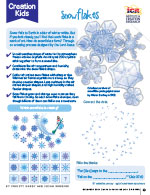 You're never too young to be a creation scientist! Kids, discover fun facts about God's creation with ICR's special Creation Kids learning and activities page.
Snow falls to Earth in a blur of winter white. But if you look closely, you'll find that each flake is a work of art. How do snowflakes form? Through an amazing process designed by the Lord Jesus.
Click HERE to download the December 2021 activity page.
Click HERE for all of ICR's Creation Kids activity pages.
* Ms. Hardy is an editor and Ms. Windsor is a graphic designer at the Institute for Creation Research.