I've been thinking recently about the sayings of wise King Solomon. He was one of the greatest world leaders of all time, and a really busy man. Solomon wrote in Proverbs 16:9 that "a man's heart deviseth his way: but the LORD directeth his steps." God has given every one of us the intellect to make plans, but in the end, it is God who directs how our plans are fulfilled (even if He must change our plans to conform to His).
Here at ICR we work hard to plan ministry initiatives, conferences, publications, and educational programs in order to fulfill the plans we believe the Lord has laid on our hearts. One of these projects recently under my responsibility is the new book Earth's Catastrophic Past by renowned geologist Dr. Andrew Snelling. Reflecting more than a decade of work by Dr. Snelling, ICR committed to publish this long-awaited update to The Genesis Flood, published in 1961 by ICR founder Dr. Henry Morris and Grace Seminary theologian Dr. John Whitcomb. A two-volume set totaling 1,200 pages, with an expected delivery date around Thanksgiving, Earth's Catastrophic Past represents a huge commitment by ICR to communicate the evidence for recent creation and the global Flood. But the task for me and my dedicated publishing team, frankly, has been enormous--even overwhelming at times--especially in conjunction with the many other books we are preparing for publication this year. Thank you for upholding us with your diligent prayers.
I am grateful to work with a genuine Christian professional like Dr. Snelling who understands the rigors of scientific writing, editing, and publishing. His patience during our editorial process has been commendable. For me personally, this is one of those occasional projects fraught with interruptions and delays that make me wonder about the plans and commitments I made in contrast to the plans God wants to fulfill. It's been a good lesson for me, particularly as ICR continues to expand its ministry to other vital areas of communicating the wonders of God's creation.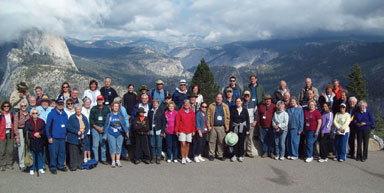 Speaking of His wonders, I mentioned last month that I would report on the ICR Yosemite Creation Tour. What a wonder of God! Thanks to Danielle Perez, our Tour Coordinator, and our teachers, Dr. Larry Vardiman and Dr. Steve Austin, as well as guest tour guides Dave and Mary Jo Nutting. A packed bus of 54 eager adventurers of all ages enjoyed hiking, creation teaching, and touring at one of the most awe-inspiring spots in America. The weather was great and all of our guests were a delight to know. And to think that so much of Yosemite Valley was created by the judgment of God--the after-effects of the Flood and the Ice Age. What a merciful and gracious God we have!
This time of Thanksgiving is our opportunity to give honor to the One who has been so gracious to us, His children. I encourage you to carefully read our feature article by Dr. Henry Morris III on the blessings of Thanksgiving. His prayer at the end is one that you will want to share with your families during this season of gratitude.
* Mr. Ford is Executive Editor at the Institute for Creation Research.
Cite this article: Ford, L. 2009. The Best Laid Plans. Acts & Facts. 38 (11): 3.