When planthoppers hop, they really do pop. These tiny creatures fling themselves with such fury that, frankly, things would go awry if their jumping mechanisms were not properly tuned. For example, if one leg hopped a bit sooner or with slightly greater force than the other, the insect would just fling itself sideways. Good thing tiny gears synchronize their hind legs.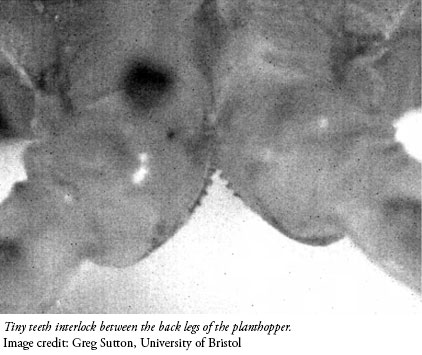 Well, technically the planthopper in question is a youngster—a nymph planthopper. But sure enough, Bristol biologist Greg Sutton found two minute rows of interlocking teeth at the base of the insect's legs. When it jumps, the gears mesh, keeping the two legs in lock-step. Sutton captured the gear action, which lasts for just a few milliseconds, using high-speed cameras. This remarkable mechanism helps the planthopper launch itself hundreds of times its body length with a single jump.
According to NPR Morning Edition, Sutton said this is "the first mechanical gear system ever observed in nature."1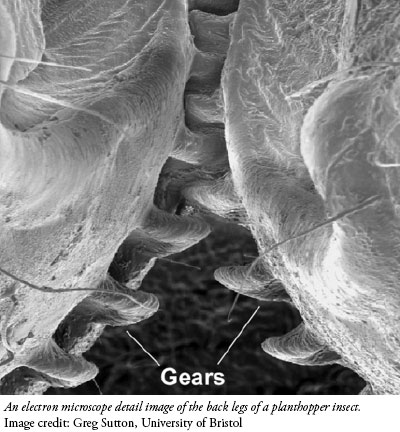 It may be the first gear system ever actually observed, but it is not the first known. Scientists have been examining the effects of molecular gears for some time.
Bacterial flagella, for instance, incorporate a gear system that runs at variable speeds—forward and reverse—and that even has a clutch that can disengage the motor from the flagellar propeller.2 In 2008, biochemists also reported molecular gears found in a viral DNA packaging motor.3
These examples—all appearing as if they just rolled out of a miniature machine-shop—clearly indicate a meticulous and intentional design too difficult for evolutionists to explain. Surely these living gears could only have been created.
References
Cole, A. Living Gears Help This Bug Jump. NPR Morning Edition. Posted on npr.org September 13, 2013, accessed September 14, 2013.
Thomas, B. Bacterial Clutch Denotes Design. Creation Science Update. Posted on icr.org July 1, 2008, accessed September 16, 2013.
Thomas, B. Virus Motors Impossible for Evolution. Creation Science Update. Posted on icr.org January 9, 2009, accessed September 16, 2013.
* Mr. Thomas is Science Writer at the Institute for Creation Research.
Article posted on September 23, 2013.