By Dr. John Morris
As noted in the lead article of this month's Acts & Facts, Senior Vice President, Dr. Duane Gish has retired from full-time activity at ICR. You can well imagine that this announcement was received with mixed emotions.
On the one hand, we rejoice with Duane at this milestone. Certainly he deserves a little less stress in his life. He has had enormous impact on the creation movement, joining ICR's staff nearly at its inception, he became known as Creation's Bulldog, a champion for its defense, and a tireless proponent of its validity. This early partnership with my father, Dr. Henry Morris, put ICR on the map and raised creation thinking to respectability.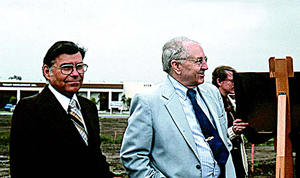 Drs. Duane Gish and Henry Morris at the groundbreaking ceremony for its admin-istration building, 1984.
He will be especially well remembered for his prowess in creation/evolution debates. I can't imagine how anyone could understand more issues, control more data, remember more sources, and articulate them more clearly than Duane Gish. He will be sorely missed. Already we are finding him impossible to replace.
Much has been made of his numerous debate victories. I can remember one he did not win. In preparation for my first formal debate back in 1985, we held a mock debate before the ICR staff. Playing the part of the evolutionist, he pulled every dirty trick on me that had been pulled on him. Thankfully I had been to lunch with him enough to know the answers to the tricks. Most thought the debate ended in a draw. Even with Duane Gish as an advocate, evolution is a loser.
There have been many dirty tricks and cheap shots leveled at Duane Gish over the years, but to his credit he always responded as a Christian gentleman. Often this even carried the day, as personal attacks were rebutted with gracious logic and scientific data.
Actually, his career is far from over. Duane has plans to update his current books and write at least two more. He just completed another grueling debate with geneticist Dr. Ed Max, enduring personal insults and debate tricks, while answering all serious arguments. Appropriately, he is to receive the Issachar Award this month from Cornerstone University. The Award is named after the "Men of Issachar, who understood the times and knew what Israel should do" (I Chronicles 12:32), which is awarded to "one that not only grasps the meaning of a Christian world-view for their own good, but also exercises a leadership that applies their Christian values for the good of others. Issachar awardees are in the best sense men and women of God. They know the truth and seek to make it known."
Every encounter with Duane Gish has been an enjoyable one, full of good humor, warmth, and Christian fellowship. He will now have the title "Emeritus Vice President" of ICR and retain an office just down the hall from mine. He will still speak and write for ICR as often as he cares to, so you haven't heard the last of him.
Duane, we thank God for you and all you've done. He has used you mightily. We pray God's very best for you in the years to come, until He returns.