ICR announced the completion of plans for several new research projects following the completion of RATE in the September Impact article #387 entitled, "What Comes after RATE?" In that same article an offer was made to our readers to distribute summaries of the intended research if they would contact Dr. Larry Vardiman at LVardiman@icr.edu . Many potential donors have taken us up on this offer and have requested these summaries. We have printed a large number of additional copies for mailing and can also send an electronic copy. We would be pleased to respond quickly to your request for copies. Summaries are available for each project:
PROJECT
PURPOSE
Principal Investigator
GENE
Genomics research
Dr. Dan Criswell
FAST
Flood Activated Sedimentation
and Tectonics
Dr. Steven A. Austin
EPIPHANY
Numerical Computer Simulations
Dr. John R. Baumgardner
RATE II
Follow-on research to RATE
(Radio-isotopes and the Age
of the Earth)
Dr. Andrew A. Snelling
COSMOS
Cosmological and
geophysical research
Dr. D. Russell Humphreys
Research at ICR has become quite vibrant, with major advances in creation thinking coming from each project. An expert in genomics, after he had read the GENE proposal, exclaimed, "The fruit is hanging low on the tree. It's ripe for picking." Stunning discoveries await those who study God's creation from a perspective of submission to God's Word.
God has prepared the individual scientists with expertise in relevant areas and equipped them with a growing knowledge of His truth. He has brought ICR to the threshold of ascertaining extensions to our understanding.
We will need significant financial backing of like-minded creationists to accomplish this. And, of course, we need the prayers of Christians, for this is a spiritual venture.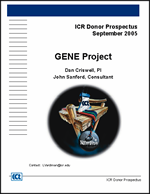 Prospective donors are encouraged to request a summary of proposed
ICR research projects by contacting Dr. Vardiman at LVardiman@icr.edu .