"And the LORD God planted a garden eastward in Eden; and there he put the man whom he had formed. And out of the ground made the LORD God to grow every tree that is pleasant to the sight, and good for food." (Genesis 2:8-9)
Everything in the garden of Eden was prepared for man's enjoyment. In the time between creation and the curse, Adam and Eve no doubt fully enjoyed the vegetation (
Genesis 2:5
, 9, 15-16), the animals (vv. 19-20), the atmosphere and the weather (vv. 5-6), the rivers and the raw materials (vv. 10-14), each other (vv. 18, 21-25), and fellowship with God (3:8). But soon they rebelled and were driven from the beautiful garden (3:24), and ever since, mankind's ability to enjoy creation has been shackled somewhat, for creation was distorted by sin, and the eyes of each one of us have become dull. The second verse of the well-loved hymn "I Am His, and He Is Mine" describes a partial reopening of the eyes of a believer upon salvation, as a love gift from our Lord.
Heav'n above is softer blue, Earth around is sweeter green;
Something lives in ev'ry hue Christless eyes have never seen!
Birds with gladder songs o'erflow, Flowers with deeper beauties shine,
Since I know, as now I know, I am His and He is mine.
In His abundant love for His children, our Lord promises to supply all our needs once again. "Why take ye thought for raiment? Consider the lilies of the field, how they grow; they toil not, neither do they spin: And yet I say unto you, that even Solomon in all his glory was not arrayed like one of these" (
Matthew 6:28-29
). Creation's beauty waits to thrill us and instruct us. Our loving Father wills it so. But creation will be fully restored soon, and "the desert shall rejoice, and blossom as the rose. It shall blossom abundantly, and rejoice even with joy and singing" (
Isaiah 35:1-2
). He beckons us to join Him in His kingdom. JDM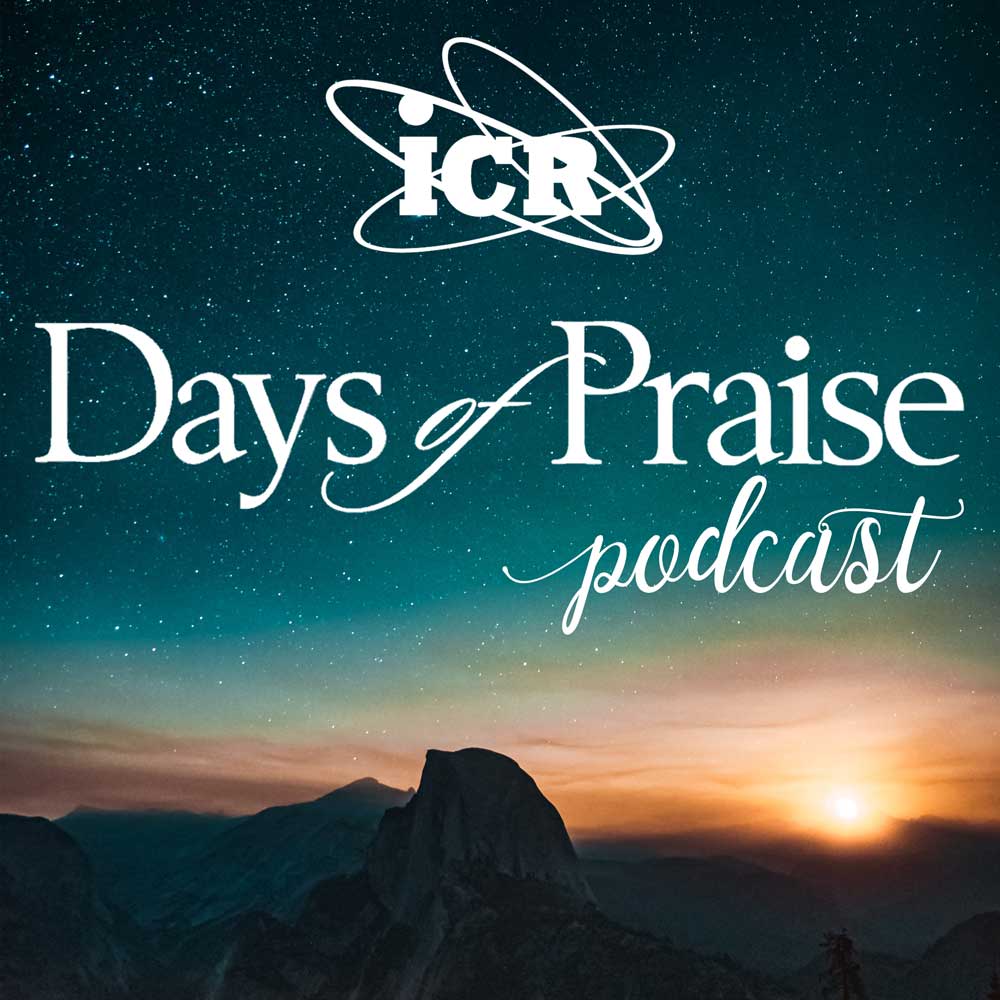 Days of Praise Podcast is a podcast based on the Institute for Creation Research quarterly print devotional, Days of Praise. Start your day with devotional readings written by Dr. Henry Morris, Dr. Henry Morris III, and Dr. John Morris to strengthen and encourage you in your Christian faith.