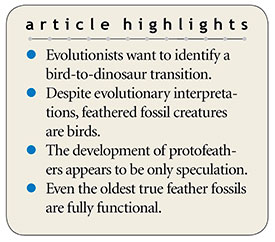 Many secular scientists consider so-called "feathered dinosaurs" to be evidence of dinosaurs evolving into birds. Clearly defined anatomy-based categories exist for both "bird" and "dinosaur," but evolution requires a bird-to-dinosaur transition.1 In living creatures, only birds—not mammals or reptiles—have feathers. Furthermore, with a few controversial exceptions,2 all extinct feathered animals are acknowledged as birds. Even bird-feather proteins called keratins are unique.3
The use of feathers to fly "affects virtually every aspect of feather design and construction."4 A flight feather has a long, slender central shaft called a rachis. From this extend the barbs, and from these extend the even smaller barbules. The barbules on one side of the barb are smooth, but, like Velcro, they link to tiny hook-shaped barbules on the opposite side.
Image credit: Copyright © 2010 C. Dove and S. Koch. Used in accordance with federal copyright (fair use doctrine) law. Usage by ICR does not imply endorsement of copyright holder.
Assuming hypothetical feathers on dinosaurs functioned as modern feathers do, they must consist of all the required working parts. Even the angle, thickness, shape, and construction of the parts must all exist and be assembled within narrow tolerances.5 So far, Darwinists have only impressions of "protofeathers" that they assume were structures on the way to becoming modern feathers. But until they became functional feathers, it appears they would have decreased a creature's fitness, making them less likely to persist in future generations.6
Consequently, a biblical creation worldview rejects the supposition that protofeathers were structures on the way to evolving into flight feathers. So, what were they? Possibly skin collagen fibers, not feathers. Some resemble fossil preparation marks, which are caused by tools used to uncover and excavate fossils. For these reasons, many researchers are "skeptical of inferring feathers when there are no feathers preserved" with bona fide dinosaurs in the fossil record.7
The difficulties in determining whether or not a fossil is a feathered dinosaur are many. Most fossils consist only of fragmented skeletal parts. Others show only ambiguous impressions in stone. Unfamiliar creatures that demonstrate evidence of feather-like structures may have been unusual birds like today's ostrich—not dinosaurs.
For these and other reasons, even some evolutionists have rejected the "feathered dinosaur" conclusion.8 Rather, they interpret the fibers not as protofeathers but as partly decayed integument, which is skin or hide.9 Theagarten Lingham-Soliar suggests that because the Sinosauropteryx fossil was found associated with lake biota, it was probably semiaquatic. Filaments that grew from its skin resembled the smooth, downy feathers used in pillows. They may have helped waterproof it like modern duck feathers.10
No evidence for feather evolution exists. Feathers in the fossil record are consistently fully formed.

No evidence for feather evolution exists. Feathers in the fossil record are consistently fully formed.11 Extensive study of one of the oldest known feathers—a 69-millimeter-long, well-preserved, claimed Archaeopteryx feather—reveals that all its major details match those of modern bird feathers.12 Thus, one might expect to find fully developed feathers on dinosaurs, but "protofeather" fibers don't fill the bill.
Without the wishful evolutionary thinking, the current evidence suggests that protofeathers were not structures evolving into feathers but likely decayed skin with fossilized collagen fibers remaining. Further research may change the conclusion that feathered dinosaurs did not exist, but until then we must go with the existing evidence, which disputes the feathered dinosaur theory. This conclusion takes the wind out of the sails of an evolutionary link between dinosaurs and birds.
References
Sloan, C. 1999. Feathers for T. rex? National Geographic. 196 (5): 99-103.
Although evolutionists have described some extinct feathered animals as links between dinosaurs and birds, each such designation is contested by other evolutionists.
Brush, A. H. 1996. On the origin of feathers. Journal of Evolutionary Biology. 9: 131-142.
Witmer, L. M. 1995. The Search for the Origin of Birds. New York: Franklin Watts, 9.
Tarsitano, S. F. et al. 2000. On the Evolution of Feathers from an Aerodynamic and Constructional View Point. American Zoologist. 40 (4): 676-686.
Thomas, B. and J. Sarfati. 2018. Researchers remain divided over 'feathered dinosaurs.' Journal of Creation. 32 (1): 121-127.
McLain, M. A., M. Petrone, and M. Speights. 2018. Feathered dinosaurs reconsidered: New insights from baraminology and ethnotaxonomy. In Proceedings of the Eighth International Conference on Creationism. J. H. Whitmore, ed. Pittsburgh, PA: Creation Science Fellowship, 477.
For both sides' position, see Davis, M. J. 1991. The Case of the Flying Dinosaur. Boston: NOVA.
Feduccia, A. 1999. The Origin and Evolution of Birds. New Haven, CT: Yale University Press; Feduccia, A., T. Lingham-Soliar, and J. R. Hinchliffe. 2005. Do Feathered Dinosaurs Exist? Testing the Hypothesis on Neontological and Paleontological Evidence. Journal of Morphology. 266: 125-166.
Lingham-Soliar, T. 2012. The evolution of the feather: Sinosauropteryx, life, death, and preservation of an alleged feathered dinosaur. Journal of Ornithology. 153 (3): 699-711.
Brush, On the origin of feathers, 132.
Parkes, K. C. 1966. Speculations on the origin of feathers. Living Bird. 5: 77-86.
* Dr. Bergman holds multiple degrees and is a former adjunct associate professor at the University of Toledo Medical School in Ohio.