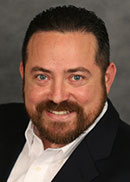 | | |
| --- | --- |
| Name: | Lalo Gunther |
| Title: | Director of Online Community and Conference Ministries |
| Specialty: | Youth Ministry |

Before becoming a Christian in 1995, Lalo Gunther was a member of a gang in southern California. He was saved after a police officer witnessed to him about Christ, and he left his former lifestyle behind. He graduated from San Diego Christian College (formerly Christian Heritage College, co-founded by ICR founder Dr. Henry Morris) and went to work in ICR's distribution warehouse in 2000, eventually managing ICR's warehouse operations. Mr. Gunther is a former youth pastor and has a passion for conveying the truth of the gospel to young people. He currently serves as ICR's Director of Conference Ministries and represents ICR at numerous conferences and seminars around the country each year.