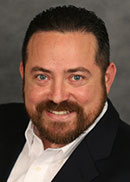 | | |
| --- | --- |
| Name: | Lalo Gunther |
| Title: | Director of Public Events |
| Specialty: | Relevance of Genesis, Apologetics, Youth/Young Adult Ministry, Leadership |

Before becoming a Christian in 1995, Lalo Gunther was a member of a gang in southern California. God used the witness of a police officer to bring him to Christ, leading to a transformed life. After graduating from San Diego Christian College (formerly Christian Heritage College, co-founded by ICR founder Dr. Henry Morris), he joined ICR's ministry team in 2000, eventually managing ICR's warehouse operations. Mr. Gunther is a former youth pastor and is strongly committed to conveying God's truth and family values to young people. He has completed a master's degree and is currently pursuing a doctoral program. He serves as ICR's Director of Public Events, representing ICR nationwide at various conferences and seminars.