The article requested is not found.
Browse through our Archives of articles.
Use our powerful article Search Tools.
Faint Not
"For consider him that endured such contradiction of sinners against himself, lest ye be wearied and faint in your minds." (Hebrews 12:3)
The Christian life and ministry can grow wearisome and hard at times, but with Christ Himself as our example, the Lord admonishes us not to faint but always to press on.
More...
Mt. Ararat and the Resurrection
"And the ark rested in the seventh month, on the seventeenth day of the month, upon the mountains of Ararat." (Genesis 8:4)
More...
Ancient Animal Biochemicals Again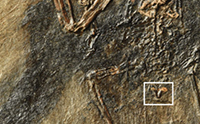 Dozens of technical reports show original biochemistry in long-buried fossils, and the reports just keep coming. Three new reports give occasion to reconsider the age assignments for these fossils. The biochemicals they harbor resemble timers that should have elapsed long ago unless these fossils were deposited thousands of years ago, not millions.
More...
Be Diligent
"And beside this, giving all diligence, add to your faith virtue; and to virtue knowledge." (2 Peter 1:5)
More...
More Articles