The article requested is not found.
Browse through our Archives of articles.
Use our powerful article Search Tools.
Gifts of Significance

Over 45 years old now, the Institute for Creation Research has grown in many ways. God always supplies each need, month by month, as individuals respond to occasional appeals and regular updates in Acts & Facts. All of us at ICR are tremendously grateful for those who support our work, and we are prayerfully confident that, Lord willing, present levels of giving will continue.More...
Why We Want to Go Home

Home is a special place that attracts us, one way or another. Is the Genesis creation account part of the explanation for why home is so important? More...
Grappling with Megasequences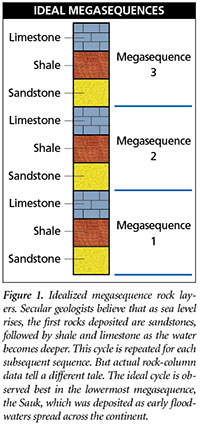 ICR's ongoing Column Project (an analysis of over 500 drilling-core and outcrop samples from across North America) has revealed surprising results that smash entrenched uniformitarian thought.1 The rocks continue to support the biblical account of one worldwide Flood. More...
Made in His Image: Life-Giving Blood

After 100 years of development, automobiles still need engine oil, transmission fluid, brake fluid, antifreeze, and so on. Wouldn't it be great if just a single multipurpose fluid could be circulated from a central reservoir? Each car part would use only the needed properties of the special fluid, exclude detrimental properties, and then send it back.More...
More Articles