The article requested is not found.
Browse through our Archives of articles.
Use our powerful article Search Tools.
Pluto's Craterless Plains Look Young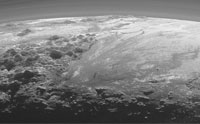 Earlier this year, New Horizons flew past dwarf planet Pluto and its sister Charon, rapidly capturing data. That information continues to trickle in, revealing a surprisingly smooth heart-shaped plain called "Tombaugh Regio." The countless craters expected from billions of years' worth of impacts are nowhere to be found. More...
Enough for Me
"Being justified freely by his grace through the redemption that is in Christ Jesus: Whom God hath set forth to be a propitiation through faith in his blood, to declare his righteousness for the remission of sins that are past." (Romans 3:24-25) More...
A Resting Place
"Not by works of righteousness which we have done, but according to his mercy he saved us, by the washing of regeneration, and renewing of the Holy Ghost; Which he shed on us abundantly through Jesus Christ our Saviour." (Titus 3:5-6) More...
A Marvelous Thing
"The man answered and said unto them, Why herein is a marvelous thing, that ye know not from whence he is, and yet he hath opened mine eyes." (John 9:30)
A "marvelous thing" in the Bible is something that generates awe or wonder. Sometimes it refers to a miracle, but more often to something very unexpected and remarkable. More...
More Articles