The article requested is not found.
Browse through our Archives of articles.
Use our powerful article Search Tools.
A New Name
"He that hath an ear, let him hear what the Spirit saith unto the churches; To him that overcometh will I give to eat of the hidden manna, and will give him a white stone, and in the stone a new name written, which no man knoweth saving he that receiveth it." (Revelation 2:17)
More...
Fossil Trees in Antarctica Preserve Ancient Proteins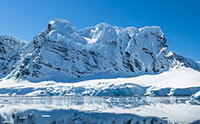 A team of scientists claims to have found the "oldest polar forest on record from the southern polar region." The trees were found in Antarctica's Transantarctic Mountains and include a mix of evergreens, deciduous trees, and gingkoes. How old is this oldest polar forest?
More...
Without Natural Affection
"Without understanding, covenantbreakers, without natural affection, implacable, unmerciful." (Romans 1:31)
More...
Blessed Is He
"Blessed is he whose transgression is forgiven, whose sin is covered. Blessed is the man unto whom the LORD imputeth not iniquity." (Psalm 32:1-2)
More...
More Articles