The article requested is not found.
Browse through our Archives of articles.
Use our powerful article Search Tools.
Wall-Climbing Cave Fish: Evolutionary Intermediate?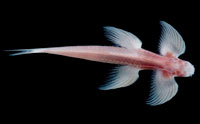 Scientists recently discovered another bizarre fish. This one has a pelvic girdle. Is it the missing link evolutionists have been searching for? More...
Mercy and Truth
"Mercy and truth are met together; righteousness and peace have kissed each other." (Psalm 85:10) More...
The "Shall Nots" of John's Gospel
"For God so loved the world, that he gave his only begotten Son, that whosoever believeth in him should not perish, but have everlasting life." (John 3:16) More...
God Is Love
"And we have known and believed the love that God hath to us. God is love." (1 John 4:16) More...
More Articles