The article requested is not found.
Browse through our Archives of articles.
Use our powerful article Search Tools.
Sudden Creation
"For God, who commanded the light to shine out of darkness, hath shined in our hearts, to give the light of the knowledge of the glory of God in the face of Jesus Christ." (2 Corinthians 4:6)
More...
The Scarlet Hope
"Behold, when we come into the land, thou shalt bind this line of scarlet thread in the window which thou didst let us down by: and thou shalt bring thy father, and thy mother, and thy brethren, and all thy father's household, home unto thee." (Joshua 2:18)
More...
Stunning Bird Fossil Has Bone Tissue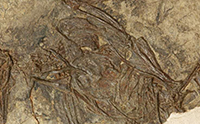 Recently, Chinese researchers described their discovery of the "earliest" bird fossil with fused pelvic bones, just like modern birds. Also like modern birds, this fossil appears to be made of original bone, not mineralized bone (which would be rock). Could any process preserve actual bones for 120 million years?
More...
The Test of Expedience
"All things are lawful unto me, but all things are not expedient: all things are lawful for me, but I will not be brought under the power of any." (1 Corinthians 6:12)
More...
More Articles