The article requested is not found.
Browse through our Archives of articles.
Use our powerful article Search Tools.
More Evidence of a Wet Sahara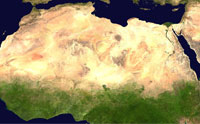 Scientists from the University of Arizona recently announced that what is now the Sahara desert was once wet and green and extended as far north as the Mediterranean Sea.
More...
The Fountain of Life
"And the Spirit and the bride say, Come. And let him that heareth say, Come. And let him that is athirst come. And whosoever will, let him take the water of life freely." (Revelation 22:17)
More...
Thou, O Christ, Art All I Want
"Thou wilt keep him in perfect peace, whose mind is stayed on thee: because he trusteth in thee." (Isaiah 26:3)
More...
In the Shadow of His Wings
"Fear thou not; for I am with thee: be not dismayed; for I am thy God: I will strengthen thee; yea, I will help thee; yea, I will uphold thee with the right hand of my righteousness." (Isaiah 41:10)
More...
More Articles