The article requested is not found.
Browse through our Archives of articles.
Use our powerful article Search Tools.
A Real Jurassic World?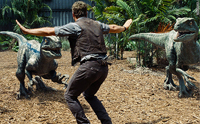 The Jurassic World movie, though thrilling to watch, comes packed with fictional ideas like de-extinction, designer creatures, and iron somehow preserving dinosaur DNA indefinitely. But how would the world respond if live dinosaurs were verified to scientists' satisfaction? More...
The Sword
"Think not that I am come to send peace on earth: I came not to send peace, but a sword." (Matthew 10:34)
The Christian life is a life of war, and the Christian soldier must be a skilled swordsman if he is to survive and win. In our text, Jesus taught that a peaceful life would not be the Christian's lot, but a life of swordsmanship instead. More...
Acceptable Sacrifices
"Ye also, as lively stones, are built up a spiritual house, an holy priesthood, to offer up spiritual sacrifices, acceptable to God by Jesus Christ." (1 Peter 2:5) More...
Fire in the Bones
"Then I said, I will not make mention of him, nor speak any more in his name. But his word was in mine heart as a burning fire shut up in my bones, and I was weary with forbearing, and I could not stay." (Jeremiah 20:9) More...
More Articles