The article requested is not found.
Browse through our Archives of articles.
Use our powerful article Search Tools.
Sloppy Religion and Sloppy Science

In 1633, Galileo Galilei faced hostile inquisitors who opposed his astronomical discoveries. Galileo claimed that Earth moves around the sun while the sun stays stationary, which was opposite to what Galileo's church taught.More...
Do Dinosaurs Disprove the Bible?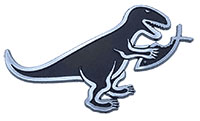 My family and I saw an interesting car emblem while on a road trip. It showed a T. rex-like dinosaur taking a bite out of a Christian fish. This led to a healthy in-car discussion.More...
Major Evolutionary Blunders: Evolutionists Strike Out with Imaginary Junk DNA, Part 2

"Casey at the Bat" is one of America's best-known poems. Surprisingly, even operas have dramatized the story of Mudville Nine's baseball slugger. In Ernest Thayer's 1888 poem, a smugly overconfident Casey was ready to wallop a game-winning home run, only to dash the hopes of Mudville by totally whiffing the ball with a massive—and embarrassing—swing-and-a-miss.
More...
Actual Feathers on Mystery Fossil Indicate 'Bird'

Most people, when they see something new, quickly try to categorize it. They want to associate it with something familiar. They say, "That's an odd piece of jewelry," or "That's a rock.More...
More Articles