The article requested is not found.
Browse through our Archives of articles.
Use our powerful article Search Tools.
The Good Confession
"I give thee charge in the sight of God, who quickeneth all things, and before Christ Jesus, who before Pontius Pilate witnessed a good confession." (1 Timothy 6:13)
More...
Creating Life
"And God said, Let the waters bring forth abundantly the moving creature that hath life, and fowl that may fly above the earth in the open firmament of heaven." (Genesis 1:20)
More...
Tim LaHaye Is Now Home

Tim LaHaye, well-known evangelical leader and co-author of the Left Behind series, went home to be with the Lord early on July 25, 2016, after suffering a stroke. Dr. LaHaye was instrumental in the start of the Institute for Creation Research and served on its Board of Trustees for many years. In September 1970, he invited Dr.More...
Sea Worm Is 'Man's Ancestor'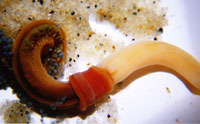 On July 7, BBC News reported the rare discovery of a fossilized sea worm, classified as a hemichordate, a sophisticated invertebrate. Evolutionists are excited because this find supposedly provides insight into early evolution. And some evolutionists even see this worm—called Oesia—as a half-billion-year-old ancestor of man.
More...
More Articles