The article requested is not found.
Browse through our Archives of articles.
Use our powerful article Search Tools.
Headstone of the Corner
"The stone which the builders refused is become the head stone of the corner." (Psalm 118:22) More...
A Time to Sleep
"And when Herod would have brought him forth, the same night Peter was sleeping between two soldiers, bound with two chains: and the keepers before the door kept the prison." (Acts 12:6) More...
No Salamander Evolution Evidence, Past or Present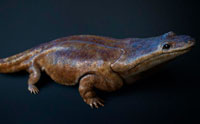 Scientists in Portugal unearthed a "super salamander" which, although "weird compared to anything today," is still very much a salamander. The fossilized bones of the six-foot animal were discovered on a hillside dig "chock-full" of bones and declared to originate from the "Upper Triassic" period, some 200 million years ago according to evolutionary dating. But creationists see this as yet another discovery of a created animal that grew to large dimensions in the fertile world before the Flood, and was subsequently buried during the Flood itself. More...
My Glory
"O God, my heart is fixed; I will sing and give praise, even with my glory." (Psalm 108:1) More...
More Articles