The article requested is not found.
Browse through our Archives of articles.
Use our powerful article Search Tools.
Fossil Trees in Antarctica Preserve Ancient Proteins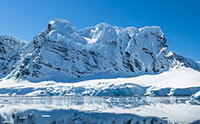 A team of scientists claims to have found the "oldest polar forest on record from the southern polar region." The trees were found in Antarctica's Transantarctic Mountains and include a mix of evergreens, deciduous trees, and gingkoes. How old is this oldest polar forest?
More...
Without Natural Affection
"Without understanding, covenantbreakers, without natural affection, implacable, unmerciful." (Romans 1:31)
More...
Blessed Is He
"Blessed is he whose transgression is forgiven, whose sin is covered. Blessed is the man unto whom the LORD imputeth not iniquity." (Psalm 32:1-2)
More...
Faint Not
"For consider him that endured such contradiction of sinners against himself, lest ye be wearied and faint in your minds." (Hebrews 12:3)
The Christian life and ministry can grow wearisome and hard at times, but with Christ Himself as our example, the Lord admonishes us not to faint but always to press on.
More...
More Articles