The article requested is not found.
Browse through our Archives of articles.
Use our powerful article Search Tools.
What Mean These Stones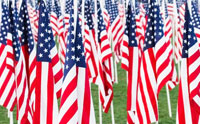 The poet George Santayana once said, "Those who cannot learn from history are doomed to repeat it." In the life of every nation, there are "memories" that must be preserved if that nation is to retain an awareness of its unique role among the nations of the world—indeed, among the long list of nations throughout history. More...
The Victor's Crown
"And every man that striveth for the mastery is temperate in all things. Now they do it to obtain a corruptible crown; but we an incorruptible." (1 Corinthians 9:25) More...
Our Sins in His Body
"Who his own self bare our sins in his own body on the tree, that we, being dead to sins, should live unto righteousness: by whose stripes ye were healed." (1 Peter 2:24) More...
The Righteous Man
"Little children, let no man deceive you: he that doeth righteousness is righteous, even as he is righteous." (1 John 3:7) More...
More Articles