The article requested is not found.
Browse through our Archives of articles.
Use our powerful article Search Tools.
The New Birth
"Of his own will begat he us with the word of truth, that we should be a kind of firstfruits of his creatures." (James 1:18) More...
Haste Makes Waste
"Therefore thus saith the Lord GOD, Behold, I lay in Zion for a foundation a stone, a tried stone, a precious corner stone, a sure foundation: he that believeth shall not make haste." (Isaiah 28:16) More...
Encore Presentation of Patterns of Evidence: Exodus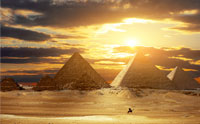 The Exodus is one of the best-known narratives in the Bible. It details the Israelites' escape from Egypt after centuries of slavery, Moses' rise to leadership, the devastating plagues on Egypt, and the miraculous Red Sea crossing. Yet many archaeologists and historians insist there is no evidence that the biblical Exodus ever occurred. This debate is the subject of the award-winning documentary Patterns of Evidence: Exodus that has an encore presentation this Thursday. More...
What Is His Name?
"They shall say to me, What is his name? what shall I say unto them? And God said unto Moses, I AM THAT I AM: and he said, Thus shalt thou say unto the children of Israel, I AM hath sent me unto you." (Exodus 3:13-14) More...
More Articles