The article requested is not found.
Browse through our Archives of articles.
Use our powerful article Search Tools.
Worship of Idols and Demons
"They sacrificed unto devils, not to God; to gods whom they knew not, to new gods that came newly up, whom your fathers feared not." (Deuteronomy 32:17) More...
A Little Flock
"Fear not, little flock; for it is your Father's good pleasure to give you the kingdom." (Luke 12:32) More...
Never Too Late
"And he said unto Jesus, Lord, remember me when thou comest into thy kingdom. And Jesus said unto him, Verily I say unto thee, Today shalt thou be with me in paradise." (Luke 23:42-43) More...
Junk DNA…Trashed Again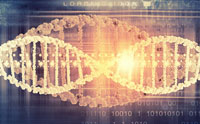 Repetitious "words" in DNA represent more than half of the human genome's three billion nucleotides. Because human reasoning essentially views the repetition of words in spoken languages as errors, these DNA sequences were first written off as meaningless junk. Now it appears nothing could be further from the truth since these repetitive words are linked with pervasive biochemical function. More...
More Articles