The article requested is not found.
Browse through our Archives of articles.
Use our powerful article Search Tools.
Elioenai
"And the sons of Neariah; Elioenai, and Hezekiah, and Azrikam, three." (1 Chronicles 3:23) More...
Threescore Years and Ten
"The days of our years are threescore years and ten; and if by reason of strength they be fourscore years, yet is their strength labor and sorrow; for it is soon cut off, and we fly away." (Psalm 90:10) More...
Christ Our Substitute
"So Christ was once offered to bear the sins of many; and unto them that look for him shall he appear the second time without sin unto salvation." (Hebrews 9:28) More...
Mosasaur Babies: Aren't They Cute?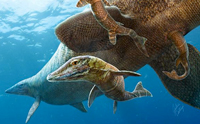 We often hear claims that birds are similar to dinosaurs, but birds and mosasaurs? Mosasaurs were swimming reptiles. How can they be confused with birds? A recent study published in Palaeontology by Yale University's Daniel Field and his colleagues clears up some of this confusion and in the end, illustrates a mosasaur lifecycle of marvelous design. More...
More Articles