The article requested is not found.
Browse through our Archives of articles.
Use our powerful article Search Tools.
Another Jesus
"For if he that cometh preacheth another Jesus, whom we have not preached, or if ye receive another spirit, which ye have not received, or another gospel, which ye have not accepted, ye might well bear with him." (2 Corinthians 11:4) More...
God My Personal Savior
"And my spirit hath rejoiced in God my Saviour." (Luke 1:47) More...
Let Him Hear
"He that hath an ear, let him hear what the Spirit saith unto the churches." (Revelation 3:22) More...
RNA Editing: Biocomplexity Hits a New High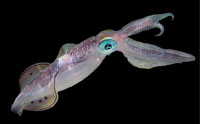 When the workings of the genome were first being discovered, the central evolutionary dogma of molecular biology claimed that genetic information passes consistently from DNA to RNA to proteins. Now we know that RNA messages can be altered by a variety of mechanisms, and a new study in squid genetics has vaulted one of these processes—called RNA editing—to an unprecedented level of biocomplexity. More...
More Articles