The article requested is not found.
Browse through our Archives of articles.
Use our powerful article Search Tools.
Three-Dimensional DNA Code Defies Evolution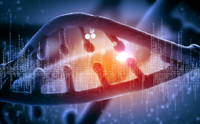 Scientists have long been baffled as to what actually tells proteins called transcription factors (TFs) where to bind in the genome to turn genes off and on. However, new research incorporating the three-dimensional shape of DNA has revealed an incredibly complex system of interacting biochemical codes. More...
Habitation for God
"Until I find out a place for the LORD, an habitation for the mighty God of Jacob. Lo, we heard of it at Ephratah: we found it in the fields of the wood. We will go into his tabernacles: we will worship at his footstool." (Psalm 132:5-7) More...
To Be Like Him
"But as he which hath called you is holy, so be ye holy in all manner of conversation; Because it is written, Be ye holy; for I am holy." (1 Peter 1:15-16) More...
The Flesh and the Spirit
"This I say then, Walk in the Spirit, and ye shall not fulfil the lust of the flesh." (Galatians 5:16) More...
More Articles