The article requested is not found.
Browse through our Archives of articles.
Use our powerful article Search Tools.
Cosmetology and the Christian
"Whose adorning let it not be that outward adorning of plaiting the hair, and of wearing of gold, or of putting on of apparel; But let it be the hidden man of the heart, in that which is not corruptible, even the ornament of a meek and quiet spirit, which is in the sight of God of great price." (1 Peter 3:3-4) More...
Birds Inspire Flight Sensor Inventions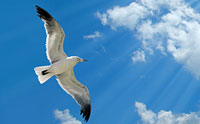 The Wright brothers studied wing structures of seabirds before building their first airplane, and the first helicopter is said to have been inspired by dragonfly flight. Today, inventors continue this tradition, focusing on bio-inspired flight sensors. A series of telling admissions in a recent summary of state-of-the-art research leave no doubt about the origins of flight-ready sensors. More...
The Books of God
"A fiery stream issued and came forth from before him: thousand thousands ministered unto him, and ten thousand times ten thousand stood before him: the judgment was set, and the books were opened." (Daniel 7:10) More...
Zechariah's Visions: Transition to the BRANCH
"Then take silver and gold, and make crowns, and set them upon the head of Joshua the son of Josedech, the high priest; And speak unto him, saying, Thus speaketh the LORD of hosts, saying, Behold the man whose name is The BRANCH; and he shall grow up out of his place, and he shall build the temple of the LORD." (Zechariah 6:11-12) More...
More Articles