The article requested is not found.
Browse through our Archives of articles.
Use our powerful article Search Tools.
Lessons from Amos: Walking with God
"Can two walk together, except they be agreed?" (Amos 3:3) More...
We Will Serve the Lord
"And if it seem evil unto you to serve the LORD, choose you this day whom ye will serve; whether the gods which your fathers served that were on the other side of the flood, or the gods of the Amorites, in whose land ye dwell: but as for me and my house, we will serve the LORD." (Joshua 24:15) More...
Secular Study: No Big Bang?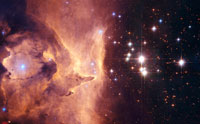 Christians who believe the universe began billions of years ago often point to the Big Bang model to try and verify a creation-like beginning. But a new origin of the universe model offers an "everlasting universe" and dismisses the whole idea of a Big Bang. Why would scientists even think to challenge a long-held concept like the Big Bang unless they saw some deal-breaking weaknesses in it? More...
World Without End
"For since the beginning of the world men have not heard, nor perceived by the ear, neither hath the eye seen, O God, beside thee, what he hath prepared for him that waiteth for him." (Isaiah 64:4) More...
More Articles