The article requested is not found.
Browse through our Archives of articles.
Use our powerful article Search Tools.
The Works of the Lord
"Praise ye the LORD. I will praise the LORD with my whole heart, in the assembly of the upright, and in the congregation." (Psalm 111:1)
More...
The Godhead
"For in him dwelleth all the fulness of the Godhead bodily." (Colossians 2:9)
More...
Joy in the Christian Life
"These things have I spoken unto you, that my joy might remain in you, and that your joy might be full." (John 15:11)
More...
ICR Breaks Ground for New Discovery Center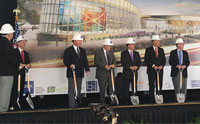 After more than 45 years of ministry, the Institute for Creation Research just dug into its biggest project yet! On April 21, 2017, ICR held the groundbreaking ceremony for the long-awaited Discovery Center for Science and Earth History.
More...
More Articles